This is the continuation of my poem. Yes, I wrote it myself, though it is based on Hardy's novel. I have striven to adopt Victorian mannerisms in my writing, which is why it may sound old-fashioned. This is based on Chapter 2. If you're confused, Tess lives in a village called Marlott, which is I believe in a district called Blakemoor, which is in Dorset. If you don't know, just check the book.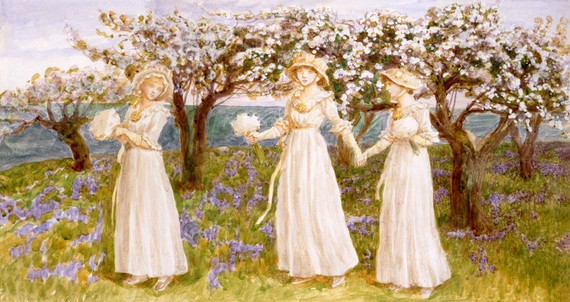 Three Girls in White by Kate Greenaway
v.
On Blackmoor's vale the sun shone bright,
Over the pastures green and wide,
Young damsels march/flock round, side by side,
Young maidens gather garbed in white;
It is May-day, the spring is come,
Where soil sprouts/shoots grass, not arable,
(Like sublime scenes from Constable),
And nightingales begin to hum.
They tread light-footed in the spring, / Soft, soft - some part their lips to sing,
Each with a basket in her hand
With flowers white, and willow wand,
And dance like fairies in a ring.
May Dance by Kate Greenaway
vi.
They light a fire with their twigs,
Amidst the flames they start to chant,
That flicker as they sing and prance:
But then John rides by in a gig:
"I've got a noble vault!" he cries.
Shrill titters burst from our youth,
One maiden stands - silent, aloof,
With fire in her changing/melting/smouldered eyes./ Fire in many-shaded eyes.
"Tess Durbeyfield, it's thy father!"
"Don't joke about him!" she retorts,
Her cheeks glow red, her face is hot/ Her cheeks glow crimson, flushing hot -
They see her wrath and cease their blather.
She seems to come from lands afar
All nature's pride wells in revolt,
She turns her gaze to realms/sights/lands afar.
May Day by Kate Greenaway
vii.
The heads of hair gleam in the blaze:
Some golden threads, some ringlets brown,
Some noses fair, some pretty crowns,
But none is fair in every way.
No more fair is Tess's form,
Save for her innocent dark eyes,
Where haunting sorrow seems to rise;
With rose-blown cheeks, and rounded arm.
Her mouth is like a peony wild
Still wrapt in bud, and yet to bloom,
As if ashroud in Nature's womb:
Ripe years have not plucked out/unplucked the child.
viii.
Into the flames their herbs they cast,
Fragrant fennel, yellow rue,
Columbine and daisy too:
The violets taken up at last.
As if a silent prophecy
Had wove around their May-day charms.
The air is soft, the dew is balm,
Smoke towers up into the sky.
Three brothers stroll along the lane:
One a curate, one a student,
The third is of uncertain bent,
And longing looks at their terrain/ sets his gaze on their terrain./ He gazes at the grassy plain.
ix.
He longs to/yearns a dance, but it is late,
His brothers urge him to depart.
Being a man of fits and starts,
He says, "Go on. You need not wait.
I won't be long, there will be time
To curl up with your scholar's feast
And counterblast the atheists."
Over the wooden fence he climbs.
Author's note: This is not meant to be anti-atheist. I am in fact an atheist. The character of the curate is such that he wants to read a Counterblast to Agnosticism at home.
Illustrations are by Kate Greenaway, a prominent Victorian illustrator. She illustrated Robert Browning's Pied Piper of Hamelin, so the Victorians were actually more accepting of women's careers more than we like to think.
I waited long and hard for thee/you
Not doubting once thy /your perfidy.
Now this would be interesting lines, though I've no idea how to start from there.